My name is Alireza, and I am a student at Stockholm university currently studying for a bachelor's degree in business administration with an emphasis on economics. I am excited about the field of Business and Economy and want to bring value to the business committee and students of the Stockholms Business School through my communication and management skills.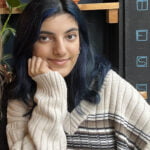 My name is Disha Mathur and I am currently in my 1st year of the bachelor program in Business, Sustainability and Ethics. I believe the essence of this committe is to enable students to network with different companies but also amongst themselves, find their own path in the field of business that they are passionate about, gain new skills and hopefully even find their future employer.
The annual London Banking Week is organized by the Business committee and gives students the chance to learn more about the fascinating field of banking and the professional options it offers. Students will get the opportunity to tour a range of banks in London throughout the course of the week, network with business leaders, and learn important information about how the banking sector operates. The occasion will also provide students the chance to network and develop relationships with future employers, which is essential to achieving a lucrative career in banking. Don't pass up this opportunity to protect your future career and acquire an advantage in the financial industry.
This is an annual project done by the Business Committee to create a greater awareness around Sustainability amongst students at Stockholm Business School.
This is an annual event in which students from universities all over Sweden can compete against each other in their knowledge of economics.
The purpose of the project is to inform students about the upcoming choice of major in their studies. This is done in close collaboration with leading firms in the sector. 
Mentoring with Professionals
The purpose of the project is to create a bridge between ambitious students and professionals in different parts of the business world.
Want to know more about how to get involved?
Follow Us On Social Media For More!