We are the International Committee for all students at Stockholm Business School and the only
committee involved in all pillars of Föreningen Ekonomerna (social, education & career). Our mission
is to actively promote a network between students, partner universities, companies and institutions, in
order to foster cultural exchange and international cooperation. Make sure to join us on Facebook to
not miss out on incredible opportunities shaping your future career, unforgettable events and the best
student experience possible!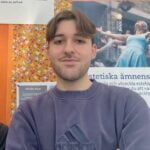 Servus! My name is Jannik, I am from Austria and currently studying my fourth semester of the
International Business and Politics Bachelor's Programme. Before being elected chair, I have been
active within the union as the Project Leader for the GMAT Course. For the International Committee
my ambition is to get more local and international students involved, improve student life for everyone
and make the committee's events unforgettable. This semester is going to be epic!
My name is Loris, and I am in the second Semester of the International Business, Ethics and
Sustainability Programme. Before becoming active in the International Committee, I started as a
Course Evaluator for the Education Committee. As an international student myself, facilitating the
mingling between local and international students is of high importance to me. I want to encourage
students to go abroad during their studies or to pursue global career opportunities!
EUROPEAN MARKETING CAREER TOUR
Stay tuned, more info coming out soon!
Global Career Oppurtunities
Don't hesitate to slide into our DMs on social media or send us an email to ic@foreningenekonomerna.se to become involved in the International Committee! Make sure to follow us on social media to stay up to date and not miss out on the biggest and most memorable events of the year!