My name is Matteus Engström, I study my second year at the bachelor programme in business and IT. I think IT is an integral part of the union and I like the work in the tech committee since I can let my ideas loose.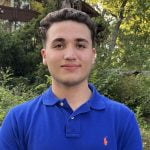 My name is Edvin Rejaeyan and I'm currently studying my second year at the bachelor programme in business and IT. I'd say that meeting new people, helping develop the website and arranging the FIFA-tournament are the three best things about being a part of the tech committee!
Develop FEST.se together with us!
Are you fluent in HTML or CSS, just starting out or just want to learn something new? The IT committee, together with the Head of IT is responsible for fest.se.
Share your ideas with us!
We always like to hear feedback from other students, maybe you want to give feedback on the website or have ideas for transforming the committee.
The technology and business sector becomes increasingly intertwined. We host events were students get the chance to see how companies work in an constantly involving enviroment.
The idea of the project is as simple as creating a fun event for everyone who enjoys FIFA. Since the FIFA tournament has already been held twice we know that the members appreciate it, which is why we decided to arrange it once again.
Want to know more about how to get involved?
Join Our Facebook For More!