We are the Event Committee here at Stockholm Business School. We believe that being a student should be fun, amazing and an exciting time in life! While we are two chairs in the committee, we have plenty of different projects running with project leaders, and encourage everyone to get involved or join our events! Keep an eye out on our Instagram and Facebook for recruitment posters!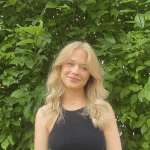 My name is Alicia Redtzer and I am currently studying my third semester at the Business, Ethics and Sustainability program together with Filippa. Being chair of the event committee is always fun and very rewarding, a perfect opportunity to grow as an individual. I am looking forward to all the events we have planned for the upcoming semester and hope to see many new members get engaged in the Event Committee!  I Can't wait  to deliver the best student experience, the best is yet to come!
Follow Us On Social Media For More!
We organize a lot of events! Everything from sittningar, parties, union ball, spring ball, club events, aktiva dagen, barbecues and much more to make the most out of our time here at Föreningen Ekonomerna. Visit our facebook group to find dates for upcoming events, and reach out to us if you are looking to be involved further ahead. Hope to see you at ALL of the upcoming events!